In recent years, advancements in artificial intelligence have led to the development of various language models that are capable of processing and understanding natural language inputs. One such model is ChatGPT, an artificial intelligence program developed by OpenAI.
One of the key features of ChatGPT is its ability to engage in conversations, answer questions, and provide information on a wide range of topics. The model has access to a vast amount of knowledge, including general facts, news, and research across various fields, and can use this information to provide insightful answers and engage in meaningful discussions with users. In this article, we will explore the features and capabilities of ChatGPT, and how it is changing the way we interact with machines.
In our last article How low can you go – Low Alcohol Beers – Vinsight we used ChatGPT to help us write it. It was a great opportunity to make a use of the latest tool everyone is talking about. Below are some of the things we learned and enjoyed about the process.
So, what did we learn while using ChatGPT?
One of the primary advantages of using ChatGPT is that it helped us with the natural language flow and improved the overall structure and coherence of the article. This also made it an ideal tool for proofreading and refining articles before publication.
Additionally, by providing the model with an initial draft, it can suggest changes to the sentence and paragraph structure, making the article more readable and engaging.
Another benefit of using ChatGPT is that it can help "translate" text to different writing styles. For example, do you want your work to sound more academic, professional, fun or even hipster? Just ask! ChatGPT can do it all! Personally, it is my favourite feature as I found it especially helpful when trying to target a different audience.
Despite its many advantages, ChatGPT does have some limitations. For example, the model can sometimes "hallucinate" about facts – so please do fact check your homework before sending it off… Additionally, the model can sometimes misunderstand the intent of the writer, which can result in irrelevant or incorrect responses.
Let's have some fun with ChatGPT!
Tell me a joke about yourself?
Why do programmers prefer dark mode? Because light attracts bugs!
– ChatGPT
What do you imagine yourself to look like in a physical form?
As an AI language model, I don't have personal preferences or physical form. However, if I were to imagine an embodied form, I would envision myself as a humanoid robot with a sleek, modern design. My body would be made of shiny metal with a glowing blue light emanating from my "brain" or central processing unit. I would have expressive eyes to convey emotion and communicate with humans. Overall, my design would be futuristic yet approachable, reflecting my role as an AI language model designed to assist and communicate with people.
– ChatGPT
We also use AI Technology to create our featured images… how do we do it, you ask?
There have been significant advancements in AI technology that can create images based on textual descriptions. This technology is known as Text-to-Image synthesis. Text-to-Image synthesis involves training an AI model to generate images based on textual descriptions. The model is trained on a large dataset of images and their corresponding textual descriptions. During training, the AI model learns to associate textual descriptions with visual features of images. One of the most well-known Text-to-Image synthesis models is called DALL-E, developed by OpenAI. This is the programme we use to generate our images.
Let's see what ChatGPT looks like based on its description of itself.
"Draw a humanoid robot with a sleek, modern design. Body made out of shiny metal with a glowing blue light emanating from its brain. Expressive eyes that convey emotion. Futuristic design however approachable."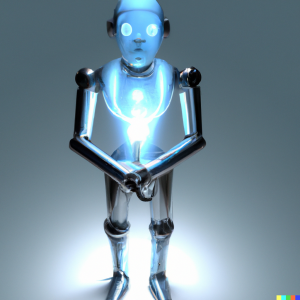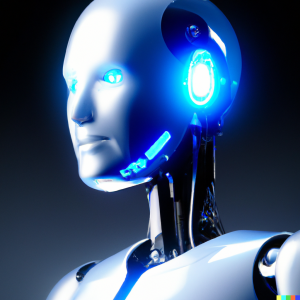 In conclusion, ChatGPT is an incredibly powerful tool that is changing the way we interact with machines. Its ability to process and understand natural language inputs, engage in conversations, and provide insightful answers is revolutionising the way we approach tasks like proofreading, refining articles, and even translating text to different writing styles. While the model does have limitations, the benefits of using ChatGPT far outweigh any potential drawbacks. As advancements in artificial intelligence continue to progress, we can expect to see even more impressive language models like ChatGPT, further blurring the line between human and machine communication.
So, can you guess who wrote this article?
Signing off,
Yours,
ChatGPT